Cognitive Energy Concentration Product Buyer's Guide (updated September 2023)
Redcon1 War Games Review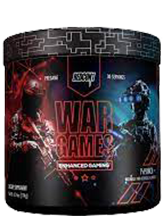 The role of this supplement is evident from the company's name -if you know the lingo. To be honest, this was new term for us. Redcon1 is a military term for the highest state of readiness. Redcon1 is a supplement brand that aims to help you achieve peak performance, whatever your situation. War Games is certainly an interesting name for a supplement but fits in well with the company branding.
War Games is mainly geared towards gamers who need to be at their peak performance, from optimal hand-eye coordination to lasting cognitive energy. It even has ingredients geared towards protecting eye health against damage from staring at a screen for extended periods of time. Whether you need a boost for hitting the digital battlefield or pounding out an essay or report, could this be the nootropic for you?
Is Redcon1 War Games Effective?
Redcon1 War Games only includes B6 and B12 of the B vitamins. The form of B12 used is Cyanocobalamin which is artificial, as opposed to the naturally occurring Methylcobalamin which is used by the body. B6 is also synthetic in this formula as Pyridoxine HCL. One of our principle beliefs is that natural and pure is best. This product could be improved by using the naturally occurring form of B12, as our top choice uses, for ensuring that the body utilizes the B vitamins and does so quickly. This was one of the reasons that this product ranked lower.
Aside from the B vitamins and an off taste, what else is in this stimulating powder? For starters, there are Green Tea, Guarana, and Yerba Mate extracts. These extracts provide antioxidants for protecting the brain in addition to naturally occurring caffeine. The caffeine in these ingredients is even stronger when combined with 125 mg of TeaCrine®, a patented form of Theacrine which also improves mental clarity. Take that caffeine and combine it with Theobromine which has a mild stimulating effect and positively affects cognitive performance and you've got a mega boost in energy. Redcon1 warns against taking this nootropic close to bedtime due to the possibility that the effects of the caffeine in War Games last up to 6 hours. 
The remaining active ingredients make up an impressive collection of adaptogens, amino acids, essential nutrients, and more. Rhodiola and Bacopa Leaf provide adaptogenic benefits for helping the body cope with and recover from stress in order to fight off fatigue. Then, there's N-Acetyl L-Tyrosine which is an amino acid that supports brain function and performance under stress, including improving focus. This product also boasts a good, high dosage of 1000 mg Choline which is an essential nutrient that plays a role in the nervous system including assisting in brain development and memory. It may even help to prevent cognitive decline. Lastly, there's Grape Seed for boosting antioxidant content and improving circulation, Huperizine for improving focus, Dynamine™ for boosting mood and concentration, and Marigold extract for Lutein and Zeaxanthin which support eye health.
After looking over the ingredients, we read up on some reviews of Redcon1's War Games to see what people were saying. Based on their testimonials, this product does give a mental and physical energy boost that helps with overcoming fatigue and increasing attention span. However, many, if not most, mentioned that the taste of War Games is not good.
The taste was another factor that dropped this supplement down into the number 2 position. Additionally, we value precision when it comes to what we put in our bodies and how ingredients might affect us. Some may prefer to mix their supplements into a drink instead of swallowing a pill, however, there is no way to guarantee that you scoop up the same amount of powder every single time which could cause variations in results. Creating the dose yourself could be beneficial, in case you need less than a serving to experience the desired results but capsules often also have the option to take less pills. 
Is Redcon1 War Games Safe?
There are no mentioned side effects from taking this product. However, we did note that this product uses synthetic vitamins and artificial flavors. While these might be safe, we do wholeheartedly believe that natural and pure is best.  As with any new supplement or diet change, we always advise talking to your healthcare professional first about possible contraindications of any pre-existing medical conditions or medications that you are taking. Supplements work differently for everyone and the effects vary between individuals so it is always a good idea to run any health changes with a professional.
While there is no indication on the label, the Redcon1 website does imply that this product has the Nutravigilance® Verified seal which means that manufacturing is third-party monitored. On top of that, it is also third-party tested by Stack3d to verify that the label represents what is in the product.
Summary
Redcon1 War Games does seem to meet its objective of getting the taker into a state where they'll be ready for anything. It has antioxidant-rich Green Tea and Guarana Extracts, energy-boosting Theobromine, synthetic B12 and B6, and many other beneficial ingredients for boosting cognitive energy and protecting against mental decline. Redcon1 offers only a 30-day customer satisfaction guarantee, instead of the standard 60-day guarantee. Applying for a refund seems to mean risking being put on the "no-sell" list. Redcon1 offers a subscribe & save deal which could potentially be very difficult to cancel and with only a 30-day window to get refunded, you could possibly end up paying for something you don't want or need. Due to the fact that this product is in powder form, the results may not be as consistent as a capsule would be. If you do decide this is the one for you, we hope you have a strong tolerance for chalky tasting drinks or you have the time and energy to return the product and redeem your refund.
What You'll Discover:
✓
Which concentration supplement is the BEST BUY and comes with a great GUARANTEE!
✓
Which formula and ingredients are the most EFFECTIVE and work the fastest?
✓
How NOT to get ripped off! BE AWARE of poor quality and cheap products.
Top 6 Items to Consider:
Ingredients
Cost Per Serving
Product's Testing Results
Company's Reputation
Consumer Reviews
Return Policy & Satisfaction Guarantee
Sign Up For Our Newsletter!
We will send the latest and most relevant information straight to your inbox, regarding concentration to keep you updated and informed.
Our promise: We will never share your contact details, unless you give us permission. And, we will only ever send you information that is helpful and significant.