Cognitive Energy Concentration Product Buyer's Guide (updated September 2023)
Chiron Nutrition Total Mind Review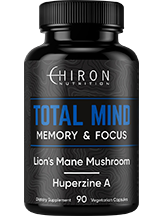 Chiron Nutrition, no doubt named for the legendary wise centaur of Greek mythology, is a lot younger than its namesake. It is one of the newer supplement brands having first hit the market in 2021. Total Mind is their first and only supplement at the time of writing this. In terms of reputation, this manufacturer is still building it and we think they've made a good start. We hope they make even more right decisions as they grow. 
At close to $55 for a month's supply, this pricing is just a few dollars above what we found to be average pricing for a concentration supplement. Total Mind is caffeine-free but is still a nootropic that is intended to provide you with support for cognitive functions. Its formula utilizes few of the ingredients on our list of expectations but we still think this might be an effective formula that deserves some consideration. 
Chiron Nutrition does not offer a guarantee to back their product, nor does it have certification for third-party testing. Furthermore, there is no mention of any internal testing either. However, we were happy to see that this product is labelled as vegetarian and would not conflict with a vegan lifestyle. 
Is Chiron Nutrition Total Mind Effective?
In order to discern whether or not a supplement is effective, we must look at the list of ingredients and the quantities of each ingredient.
First, we'll take a look for B vitamins. Two of the main B vitamins for energy are B6 and B12. These two are perhaps most famous for their role in energy synthesis and supporting nervous system function. Total Mind has high doses of both of these B vitamins in their bioactive form so that it is easy for the body to utilize them. We were pleased to see both of these on the list, though more B vitamins such as B1, B5, and B9 would have added to the energy and mood boosting effects of this product. The formula could also have benefitted from vitamins B2 and B3 which would have added neuroprotective properties to this formula.
In addition to supporting energy production, Total Mind also aids dopamine production. Dopamine is a neurotransmitter that sends and receives messages in the brain, encourages longer periods of focusing, and is involved in the system through which the brain determines what is pleasurable (the reward system). L-Theanine and N-Acetyl L-Tyrosine are two amino acids that are in this product's formula that increase dopamine levels.  Additionally, Phosphatidylserine is included due to being necessary for the release of neurotransmitters such as dopamine.
L-Theanine does more than just its dopamine-related function. It can aid in reducing anxiety. Additionally, Bacopa Monnieri and Lion's Mane Mushroom are adaptogens which means that they help regulate the body's response to stressors to keep the body from exhausting itself. Keeping the mind relaxed is helpful for allowing the brain to concentrate on specific things. On top of helping to relieve stress, the Lion's Mane Mushroom is also believed to boost memory, help prevent cognitive decline, increase nerve growth, and reduce inflammation. 
Other potent anti-inflammatory in Total Mind include Maritime Pine Bark extract and Ginkgo Biloba. These two ingredients also contain antioxidants that help to protect the brain cells from oxidative damage. It should be noted that Ginkgo Biloba improves circulation and increases blood flow to the brain and can boost cognitive function.    
Huperzine A is the last active ingredient on this list. It helps increase acetylcholine levels which is believed to help prevent or delay cognitive decline or diseases.
In addition to analyzing the active ingredients, it's always important to look at the inactive ingredients. The longer the list of inactive ingredients, the more likely it is that there is a misunderstood or harmful substance listed there. Thankfully, Total Mind is made without any fillers, artificial colors or GMO ingredients. 
Is Chiron Natural Total Mind Safe?
In general, this product is marketed as natural and safe. There are no mentioned side effects and our research did not reveal any harmful ingredients. However, there are no other certifications listed which would add confidence to our belief that this product is safe. Testing each ingredient for purity  as well as testing of the final product ensures added safety.
As a general rule, we always recommend speaking to your doctor before taking any new supplement, especially if you are pregnant, nursing, have any health conditions or are taking other medications.
Summary
For a manufacturer still trying to build a reputation, Chiron Nutrition is doing a pretty good job. They have a solid formula with potent dosages of the active ingredients. Total Mind is caffeine-free, vegetarian, and free of any potentially harmful additives. There were few reviews, as this is a new product, however, from what we saw, they were all positive.
We liked this product's formula but felt that the product as a whole was missing a key element: certification. At the very least, we would have liked to see that this product is made in an FDA approved facility and adheres to the current Good Manufacturing Practices (GMP). Ingredient and product testing would have only added to the value of this product which is priced just above the average range. Lastly, a satisfaction guarantee would display the manufacturer's confidence that this product will be effective and would have made us more comfortable spending our hard-earned money to try out the product. All in all, this is a good product that we suspect will be effective for you but could be better if it adhered to the gold-standard of testing for safety and purity
What You'll Discover:
✓
Which concentration supplement is the BEST BUY and comes with a great GUARANTEE!
✓
Which formula and ingredients are the most EFFECTIVE and work the fastest?
✓
How NOT to get ripped off! BE AWARE of poor quality and cheap products.
Top 6 Items to Consider:
Ingredients
Cost Per Serving
Product's Testing Results
Company's Reputation
Consumer Reviews
Return Policy & Satisfaction Guarantee
Sign Up For Our Newsletter!
We will send the latest and most relevant information straight to your inbox, regarding concentration to keep you updated and informed.
Our promise: We will never share your contact details, unless you give us permission. And, we will only ever send you information that is helpful and significant.